I've been walking with dinosaurs
to try and help you make money because that's what I do. As someone who prefers
to be called a financial educator, rather than a media commentator, I do a lot
of commenting on radio, TV and on websites, but making money knowledge
accessible is my main driver.
I got a little annoyed when
someone accused me of being "a dinosaur" by advocating that you can get rich by
buying and holding quality companies. It's kind of
relevant to talk about that now, with the Coronavirus panic driving share
prices down to levels that might make sense when economies and businesses were
surprisingly closed down but in the fullness time, these current prices might
crazy look!
So, this is a 'dinosaurs'
view on what is going to happen to the economy, stocks and your life. Last week
I was accused of being a dinosaur for advocating buying and holding strategies,
but given we've seen a big fall in the stock market, I reckon for anyone who
has been thinking about becoming a stock investor, this isn't a bad time to
start.
Sure, the market could fall
again and well-known fund managers like WAM's Geoff Wilson and Roger Montgomery
from MIM are sitting on cash to eventually pounce on oversold companies. Et un
broker like Michael McCarthy from CMC Markets is waiting for another leg down
before he starts collecting shares again. He was lucky or smart, as he took out
an option that has paid off as the market fell. About six weeks ago on my
SWITZER TV Investing program, Michael said CMC had an options product that
would give 95% insurance protection on say a $ 1 million portfolio for a mere
$ 17,000! Doesn't that look like a great deal nowadays?
Macca could be in the Dinosaur
Club, but he has taught a lesson to many with his advice that won't be
forgotten when the next market boom gets long in the tooth.
In the dotcom days, Warren
Buffett was accused of being past it and Gerry Harvey has often been accused of
being a relic from a prehistoric past. Let's look at their dotty performances
through the 'eyes' of the charts that track their share prices.
Berkshire Hathaway A
shares
Note June 1, 2000 for a
marker around the dotcom crash and see how the 'buy and hold' dinosaur has
taken his share price from around $ 69,000 a share to $ 276,700, even after a 36%
crash of the stock market a few weeks ago. Back then, his Berkshire A stock was
worth around $ 330,000!
Warren is a buy and hold man.
And wouldn't you have wished to be a buyer of Berkshire decades ago?
And what about Gerry's story?
The chart below shows his story isn't quite as good as Warren's but not many
are.
Harvey Norman (HVN)

In January 1988, HVN was a 7
hundred-share. Before the GFC, it shot up to $ 6.77. And after beating the post-GFC
slowdown and then after meeting the threat of Amazon, the share price got to
$ 5.17 in August 2016. Then it fell with Donald Trump's trade war and a slowing
Oz economy, and was as high as $ 4.53 before the Coronavirus started to hit the
supply chain and then the stock market!
The share price showing
could've been better but these have been challenging times for retailers and
the Oz economy of late. However, the last dividend yield came in at 11.79%,
which has kept a lot of retirees, looking for income, pretty happy.
Another dinosaur stock that
was faced with the threat of Amazon and the online world was JB Hi-Fi. Let's
see how that bricks and mortar business has coped.
JB Hi-Fi
In October 2003, this was a
$ 2.27 stock and now, after the Coronavirus crash it's $ 31.93. But before the
plague came to town – worldwide! – it was nearly a $ 40 stock. And that's
despite the threat from Amazon and media doubters and short-sellers who
underestimated the power of the brand and the smarts of the company's CEO,
Richard Murray.
The bottom line lesson from
dinosaur investors is that this is a good time to buy quality companies to hold
for a long time.
Next Monday's Switzer TV
Investing program has the likes of Roger Montgomery, Geoff Wilson, Julia Lee
and others giving us their best investing views in light of the Coronavirus
crisis. And they like some dinosaur companies that really look like good 'buy
and hold 'investments.
Once you get into good stocks at this low point of the market (that still could go lower), if my dinosaur memory of past bear markets holds true, it's worthwhile learning from another dinosaur-like piece of advice: it's best to spend time in the market rather than trying to time the market, as the chart below shows.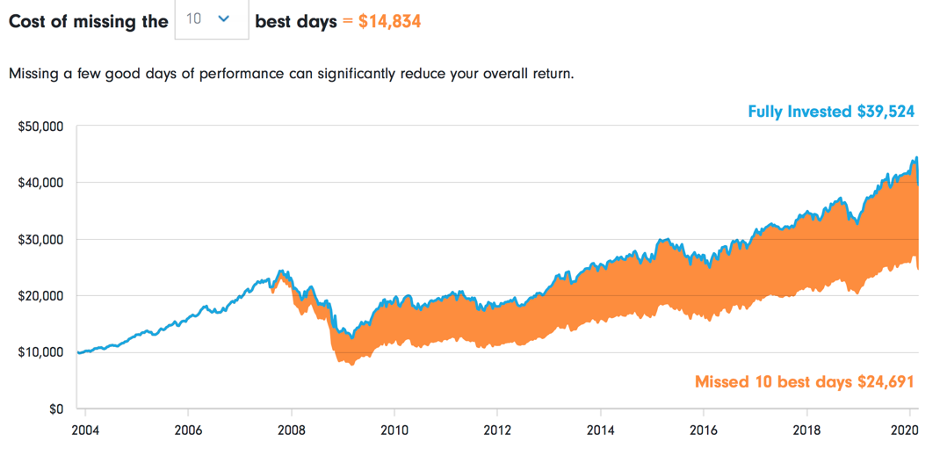 This chart shows if you
invested $ 10,000 in say something like an ETF for the S & P / ASX 200 Index and
simply left your money there, while someone else tried to time the market and
missed the 10 best days, your 'buy and hold' strategy would have delivered you
$ 38,524, while the in and out trader ended up with only $ 24,691!
I know from how busy I am
answering media questions right now that when the 'you know what' hits the fan,
TV and radio producers often go looking for those 'dinosaurs' who've got gray
hair or no hair! Memory of past bear markets can be really important, which
makes me recall my interview with IBISworld's Phil Ruthven in February 2009 on
my old Sky Business SWITZER program.
I asked Phil, who is
definitely a dinosaur, what the Aussie stock market rebounded by after a bear
market crash. He said 30-80%, and from March of that year the local market shot
up around 55%!
A dinosaur with experience
and memory can be quite useful at times like this. Go dinosaurs!
By the way, for Easter, if
you want to learn from a dinosaur like me, my team tells me we are doing a 30%
discount on my book Join the Rich Club! Just go to www.switzerstore.com.au and have a safe and happy Easter.