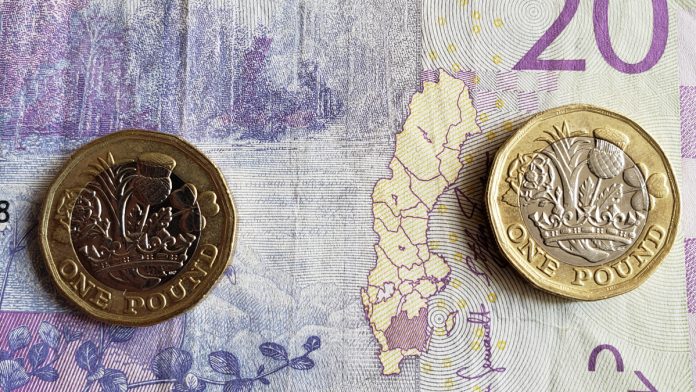 The Swedish crown remains stable against the pound at the start of the session Thursday. The exchange rate for the Swedish krona increased during the previous session, as Prime Minister Boris Johnson's health showed signs of improvement. The pair closed Wednesday's session up 0.7% to 12.4477.
Today at 06:45 UTC, the GBP / SEK pair is trading at -0.05% at 12.4750 as the number of deaths in the United Kingdom increases and is ahead of many British data.
UK Fatalities Soar
Just as the pound fell on the news that the British Prime Minister's health had deteriorated, the pound jumped on the news that Boris Johnson was sitting and breathing without help. A calmer, optimistic market mood that a turning point was finally reached with the coronavirus contributed to the rise of the British pound on Wednesday.
The daily number of coronavirus deaths reached 964, higher than Italy even at its peak. However, Pound investors found some comfort in the news that hospital admissions were declining and new cases were not accelerating out of control, according to the government's deputy scientific director. advise.
Nevertheless, the ministers made it clear that there was no prospect of the UK closing next week. Restrictive measures expected to remain in place for weeks to come, despite potential damage to UK economy
Attention could now turn to a multitude of macro data to be published, including industrial production and the reading of monthly GDP. However, these figures are for February and are therefore already considered obsolete.
Swedish household consumption increases
The Swedish krona was under pressure in the previous session, as data on household consumption fell short of analysts' forecasts. Swedish consumption rose 0.4% month-on-month in February, from a contraction of -0.3% in January, but still well below the forecast 0.7%.
Consumption data was for February, as the coronavirus spread outside of China and Europe. The increase in consumption could be linked to an accumulation of stocks before the hit of Covid-19. However, the data shows that this was limited, which could be linked to Sweden's more relaxed approach to the virus.
The Swedish government has not put in place a lock in Sweden to contain the spread of the virus among its 10 million inhabitants. The laissez-faire approach has attracted much criticism. However, the data so far do not show a rapidly increasing death toll. The total number of coronavirus deaths in Sweden is 696, with 8,571 confirmed cases. Investors will follow these statistics very closely to see if they are shooting higher.
---
Currencylive.com is a news site only and not a currency trading platform.
Currencylive.com is a site managed by TransferWise Inc. ("We", "We"), a Delaware company. We do not guarantee that the website will operate continuously or without error or that it will be free from viruses or other harmful components. The content of our site is provided for informational purposes only and is not intended to be an exhaustive treatment of its subject. We expressly decline any contractual or fiduciary relationship with you based on the content of our site, you cannot rely on it for any purpose. You must consult qualified professionals or specialists before taking or refraining from any action based on the content of our site. While we make reasonable efforts to update the information on our site, we make no representations, warranties or warranties, express or implied, that the content of our site is accurate, complete or current, and disclaims all implied warranties OF MERCHANTABILITY OR FITNESS FOR A PARTICULAR PURPOSE. Some of the content published on this site has been ordered by us, but is the work of independent contractors. These contractors are not employees, workers, agents or partners of TransferWise and they do not present themselves as one. The information and content published by these independent contractors has not been reviewed or approved by us. The opinions expressed by these independent entrepreneurs on currencylive.com do not represent our views.