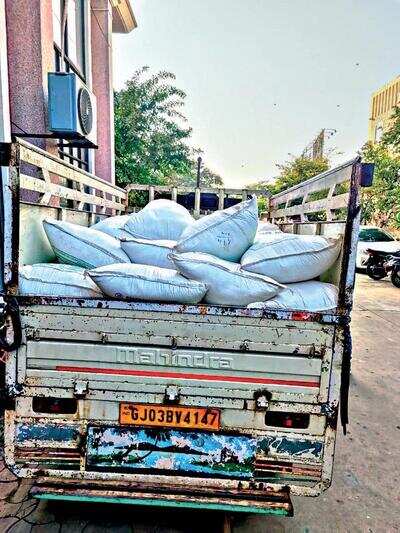 47 jute bags (2350 kg) were seized from an MUV
Rajkot: An illegal sale of rice racketeering for fair-price stores broke out in Rajkot on Saturday evening.
A total of 47 jute bags (2,350 kg) worth 94,000 rupees were seized from an MUV at Aji GIDC in Rajkot. The driver of the MUV was arrested.
"During the patrols, we stopped the vehicle and asked about the jute bags. Driver Ravi Dholakia (26) said that a reasonably priced store owner Badruddin Virani loaded the bags and asked him to sell them in the courtyard of the Gondal market, "said VK Gadhvi, inspector of the criminal branch of Rajkot.
"We seized the bags of rice and kept them safe from a government. We have informed the district procurement officer, who will conduct a further investigation against Dholakia and Virani, "Gadhvi said. Police said the seized jute bags were not sealed by the government. "It seems that the defendants put the rice in different jute bags," Gadhvi added.
FacebookTwitterLinkedinE-mail