Key findings
Foreign exchange balances have plummeted over the past two days.
Research by Jarvis Labs analyst Benjamin Lilly points to an imminent liquidity crunch in ether on the exchanges.
Compared to the previous two bull cycles, market flow data indicate greater upside potential.
Bitcoin and Ethereum are being withdrawn from exchanges in large quantities. In light of this trend, network analysts suggest that prices for both cryptocurrencies could rise higher.
Visible signs of a bubble
In a bullish phase, the market gets hot and cools down cyclically. Altcoin prices rise and enter a bubble-like market. Traders recognize peaks and retracement cycles, making higher highs and lows each time.
Eventually, the market fizzles out and the local elite becomes the top of the generation. During this rally, liquidity spills over to the altcoins, causing abnormal rallies in the absence of fundamentals.
These are recurring signs of a bubble as altcoins exhibit irrational exuberance. For example, yesterday the Stellar blockchain went offline for a short period, but its own XLM token kept the previous day's gain of 25%. Meanwhile, XRP hit $ 1 despite the SEC filing a securities lawsuit.
However, on-chain analysis of the two major cryptocurrencies – Bitcoin and Ethereum – suggests that the market has not yet peaked.
Ethereum liquidity crisis
Benjamin Lilly of Jarvis Labs, an on-chain research company, found a correlation between the decline in supply on the exchange and the price of ETH. According to Lilly, ETH is "preparing for a historic launch."
He found that in 2017 there were 44% fewer Ethereum balances on exchanges, and users were withdrawing ETH to personal wallets. This time, the exchanges recorded a 25% reduction in supply. Moreover, the total supply of ETH is 38% more than last time, which means more overall liquidity on the supply side.
Additionally, exchanges are not the only entities holding ETH. Another illiquid ETH is blocked in DeFi applications (11.5M ETH), in Grayscale reserves (3.17M ETH) and on the Ethereum 2.0 beacon chain (3.7M ETH). A total of 18 million ETH blocked (15% of the total supply).

Lilly predicts that demand will rise, leading to an explosive rise in prices. This is due to "growing institutional demand due to unethical dollar management, grayscale effects," as well as the widespread adoption of cryptocurrency in NFT, the base layer for stablecoins and other FinTech applications.
Bitcoin continues its buying trend
Likewise, Bitcoin has shown no signs of a long-term cycle top. The bitcoin age distribution metric has been a reliable indicator of market peaks in the past.
The metric, also called HODL waves, separates Bitcoin addresses based on the time of the last deposit and withdrawal.
A wide short-term supply range indicates buying hyperactivity, which has happened twice at the top of the market. "36% of supply has been active in the past 180 days, which is still well below the peak of around 50% in January 2018," wrote Nate Maddrey of Coinmetrics.
Maddrey came to a similar conclusion from two other metrics: market value versus realizable value (MVRV) and used output ratio (SOPR).
Apart from this trend, a large number of Bitcoin has left exchanges in the past two days with Bitcoin dropping below $ 59,000. The steep decline on the yellow line represents the largest jump since November 2020.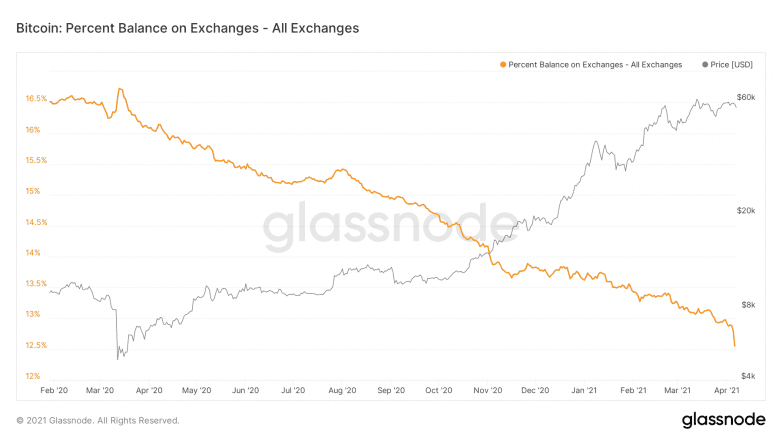 The escalating liquidity crunch fueled by strong demand is exacerbating the recovery after short-term consolidation.
At the time of writing, this author has bitcoins and less than $ 15 altcoins.
"I might be missing something," says billionaire Bitcoin B.
Bridgewater Associates founder Ray Dalio posted a series of tweets about Bitcoin's fundamentals on November 17 after being surprised to see BTC cross $ 17,000. Dalio admitted that his bearish analysis could …
What are non-financial tokens (NFT)?
Tokenization works well for commodities such as fiat currencies, gold, and physical land. Representing a fungible asset on the blockchain allows you to trade goods 24/7 with borderless and hassle-free transactions. Interchangeable goods …
Bakkt Launches Bitcoin Payments App
Bakkt has launched its official payment app allowing users to buy, sell and spend bitcoins and other digital assets. The Bakkt app is available to everyone, although Bakkt had early access …
Ethereum Tops $ 2,000 Again As Market Rally Continues
Ethereum hit the $ 2,000 mark for the second time in its history. Ethereum Price Rally After a week of green candles for Ethereum, the second most important cryptocurrency is trading above $ 2,000 again. …