Shares in media giant ViacomCBS (NASDAQ: VIAC) skyrocketed and fell immediately after the sale of Archegos' margin call in a forced liquidation. The stock collapsed nearly (-60%) in four trading days, helped by the forced liquidation of nearly $ 20 billion of VIAC shares. Skeptical investors questioned the excessive and dubious rise to $ 100 prior to the sell-off. When the Company announced a secondary offering of nearly $ 3 billion on March 24, 2021, volatility surged as the stock plummeted, revealing margin calls as a result of excessive leverage implemented by Archegos Capital Management. Fears surrounding the contagion effect intensified after Credit Suisse (NYSE: CS) warned of the significant material impact of losses incurred by an unnamed US hedge fund, while Nomura Securities reported losses of nearly $ 2 billion. The sale quickly spread to Goldman Sachs (NYSE: GS) and Morgan Stanley (NYSE: MS) as these firms actively liquidated their stakes. However, the background of benchmark indices reaching new all-time highs has so far largely distracted the attention of US investment banks. Risk-tolerant investors looking for a long-term value-added game can monitor ViacomCBS's opportunistic retracement levels to consider risk.
4th Quarter Income Statement 2020
On February 24, 2021, ViacomCBS released Q4 2020 results for the quarter ending December 2020. The company reported earnings per share (EPS) of $ 1.04 excluding one-off items, $ 0.03 above the analyst consensus of $ 1.01. Revenue rose 3.3% year-over-year to $ 6.87 billion, beating analysts' estimates by $ 200 million. Adjusted OIBDA increased by 5% YoY to USD 1.18 billion. Sales of streaming and digital video rose to $ 888 million from $ 519 million year over year. US streaming subscribers grew 71% to 19.2 million. CBS All Access and SHOWTIME OTT showed the best quarter for registrations. CBS ALL Access was driven by demand for sports content including the NFL, UEFA and SEC, as well as original programming. Worldwide streaming subscribers rose to 30 million, and Pluto TV's monthly active users (MAU) rose to 43 million, up 81% YoY. Affiliate revenues grew 13% YoY and advertising revenue grew 4% YoY The company owned 30 of the most popular cable networks among viewers aged 18 to 49 and 9 out of 10 original TV shows with children from 2 up to 11 years old. The company received $ 2.2 billion in operating cash flow from continuing operations and $ 1.98 billion in free cash flow. As of December 31, 2020, the Company had $ 3 billion in cash and $ 3.5 billion in revolving loans that were not in use.
(Announcement)
The patented product line, unrivaled distribution formula and exponential growth potential in an explosive industry make this company the best way to play in the legal cannabis sector.
Secondary placement of VIAC
On March 24, 2021, ViacomCBS announced a $ 2.65 billion share offering consisting of 20 million Class B common shares at $ 85 and 10 million 5.75% compulsory convertible notes with a liquidation privilege price at $ 100 per share. share. Convertible shares are automatically converted to Class B shares on April 1, 2024. The underwriters were given the opportunity to purchase an additional 2 million Class B shares and 1.5 million preferred shares within 30 days, which could have boosted total revenues to $ 3.06 billion, but probably not. Subsequently, the placement marked the beginning of a sell-off in shares, as on March 22, 2021, just three days before, they closed at $ 100.34. Just two days after the announcement, the shares collapsed to a low of $ 39.81, helped by the sale of the nearly $ 20 billion block.
Archegos Capital liquidation
The extreme selling of VIAC shares on March 26, 2021 spilled over to various other and seemingly unrelated stocks ranging from Discovery Networks (NYSE: DISCA), Baidu (NASDAQ: BIDU), Tencent (NYSE: TME), Vipshop (NYSE : VIPS). , Farfetch (NYSE: FTCH) and iQIYI (NASDAQ: IQ). The link between the shares turned out to be a forced liquidation due to margin calls related to the little-known family office of Archegos Capital Management, which is run by former Tiger Management Asia fund manager David Hwang. Details are still unclear, but the fund manager, who was previously blacklisted, is at the center of many highly leveraged rates that have exploded, causing a domino effect in the forced liquidation of his assets. While shareholders have been hurt, the sell-off could lead to unpredictable retracement levels for prudent risk-tolerant investors with a longer time horizon in VIAC stock.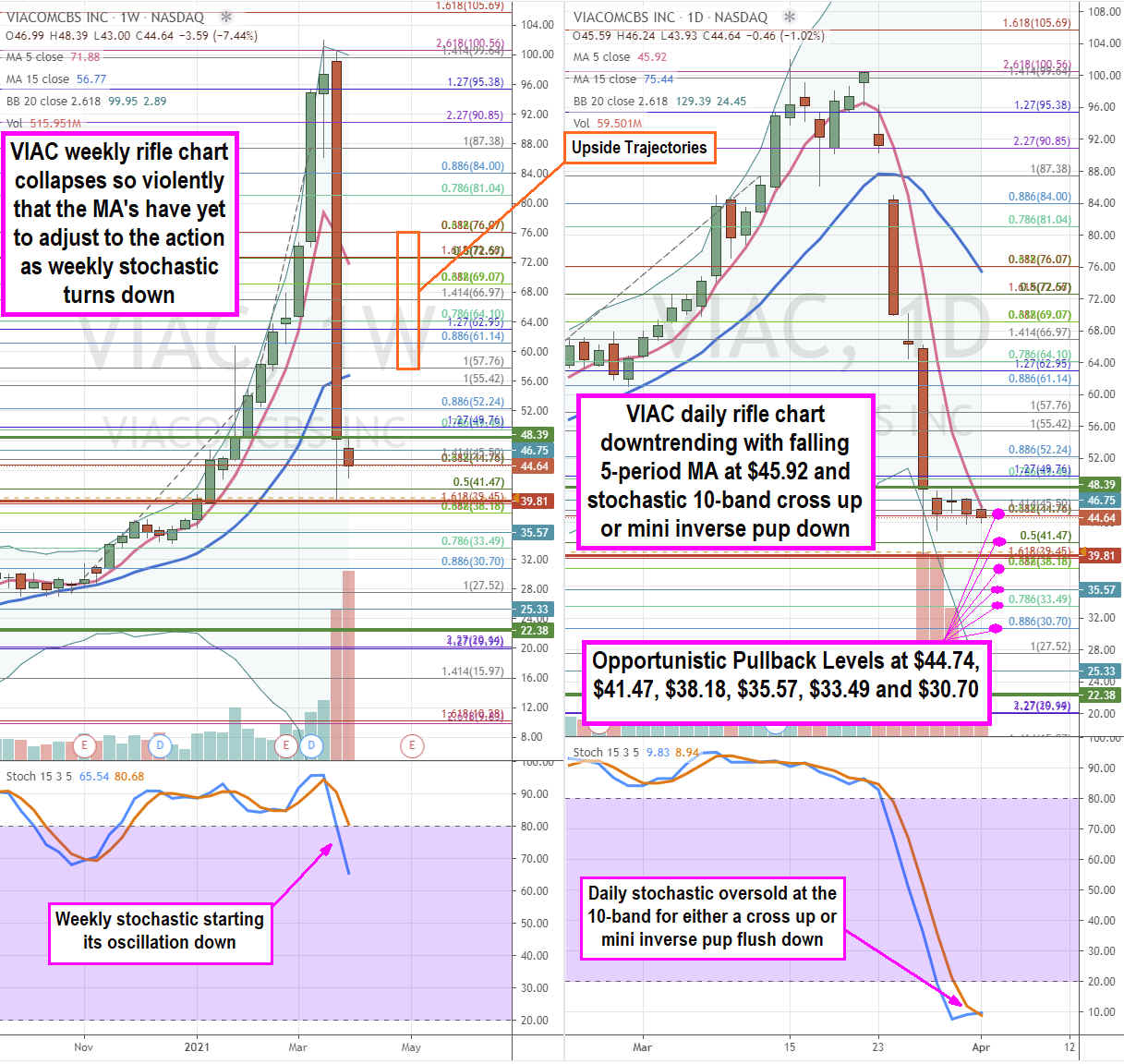 VIAC opportunistic retracement levels
Using rifle charts at weekly and daily time frames gives a short-term view of the VIAC stock situation. The uptrend on the weekly rifle chart lasted 19 weeks before peaking at around $ 100.56. Fibonacci level (Fibonacci)… The violent crash cut through the weekly 5-period moving average (MA) at $ 71.88 and the 15-period moving average at $ 56.77 as the weekly stochastic fell through the 80-band band. On the daily chart, the arrow fell to the stock price with 5-period moving average resistance at $ 45.92 and a highly lagging 15-period moving average near the Fibonacci level of $ 76.07. Daily low market structure (MSL) a buy is triggered above $ 48.39, while a weekly market structure high (MSH) is triggered on a break below $ 39.81. The daily stochastic fell to a 10-band with a possible upside crossover as soon as the 5-period MA could break, or a rejection of the daily 5-period MA could cause a small reverse spike to the downside. Risk-tolerant investors can control opportunistic retracement levels $ 44.74, $ 41.47, $ 38.18, $ 35.57, $ 33.49 and $ 30.70. Upward trajectories range from the Fibonacci level of $ 57.76 up to the Fibonacci level of $ 76.07.
13 Shares Institutional Investors Won't Stop Buying
University endowments, pension funds, sovereign wealth funds, hedge funds and other institutional investors invest in a group of 13 elite stocks.
These institutional investors have a hard time influencing the hot stocks popular with retail investors. You probably won't see Tesla or SnapChat in this group because institutional investors know that these "popular kids" stocks are almost always not a good investment. However, on this list you will find some excellent companies with real profits and real fundamentals.
We had to go through all 13D and 13F documents that institutional investors filed with the SEC in the last quarter to identify these shares. After reviewing over 5,000 applications, we identified 13 companies that institutional investors leave after a purchase. Large investors are investing hundreds of millions of dollars in these stocks.
Check out 13 Institutional Equity Investors Who Won't Stop Buying.