The RBA kept its interest rate at 0.1% and announced that it would discuss whether or not to retail its 3-year bonds. And gold looks poised to break above 1800 as the bulls return to that milestone again.
Asian indices:
The Australian ASX 200 is up 37 points (0.53%) and is currently trading at 7065.80.
The Japanese Nikkei 225 Index is up 62.08 points (0.21%) and is now trading at 29,053.67.
The Hong Kong Hang Seng Index is up 71.09 points (0.25%) and is currently trading at 28,428.63.
UK and Europe:
UK FTSE 100 futures are currently up 18.5 points (0.27%), with the cash market expected to open at 6,988.31.
Futures on Euro STOXX 50 are currently down -1 point (-0.03%), the cash market is currently estimated to open at 3999.25.
German DAX futures are currently down -18 points (-0.12%), the cash market is currently estimated to open at 15,218.47 points.
Monday US close:
The Dow Jones Industrial rose by 238.38 points (0.7%) and closed at 34,113.23.
The S&P 500 rose 11.49 points (0.27%) to 4 192.66 points.
The Nasdaq 100 Index fell -61.041 points (-0.44%) to close at 13,799.72 points.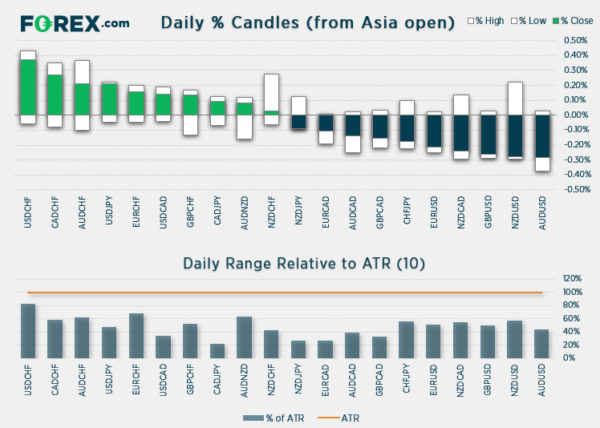 FTSE 100 continues to hover at 7000
After a positive start following Wall Street, Asian stocks look mixed. The ASX 200 is the strongest of the major benchmarks, climbing 0.5%, followed by the Hang Seng at 0.25%. Shares in China and Japan were down, with the SEC and CSI300 down about -0.8%.
As for the FTSE 100, bulls continue to challenge (but cannot keep prices above) 7000. Not wanting to sound like a broken record, the fact that it is struggling with this milestone, failing to test the April high at 7019, makes this index difficult to rise. , and two bearish pinbars have formed at recent highs. In the last 8 sessions, it has failed to recoup the 2% loss it suffered two weeks ago, so it looks like we have a very slow grind top in our hands (which can't seem to peak). But when such moves fail, they can do it so quickly, which is why we continue to monitor potential changes in the FTSE index. Perhaps a break below 6929 could finally trigger a bearish continuation.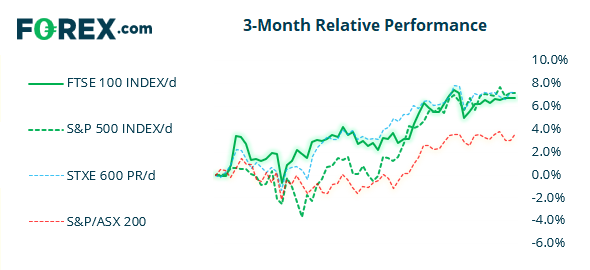 FTSE 100 (-0.38%) from 09 April 2021:
Winners
+ 4.29% – AstraZeneca
+ 4.21% – Smurfit Kappa
+ 3.17% – Hikma Pharma
Laggards:
– 7.00% – Barclays
– 4.03% – Okado
– 3.23% – Flutter Entertainment
Commodities: oil confirms support, gold and copper expect new highs
Gold appears to be looking to break above 1800 after rallying 1.3% yesterday and stalling at the cusp of this pivotal level. The 20-day and 50-day eMAs acted as a springboard for gold prices yesterday after last week's bearish outside candlestick failed to hold below key support at 1760. The 1676 double bottom pattern remains in play and its target is circa 1835, daily trend structure suggests we may face a breakout sooner rather than later.
A break above 1800 confirms the break and focuses attention at 1835 (a measured double bottom move).
The offset remains bullish above last week's low, but if this breakout has legs, we do not expect it to retest yesterday's low first.
Since a small flag is forming on the 4-hour chart, a break above 1800 could allow us to push the invalidation point to the flag lows (currently around 1785).
Copper futures formed a bullish engulfing candle yesterday, suggesting a swing low at 4.4350. During overnight trading, prices remain in the upper third of yesterday's range, so we will be watching for a potential break above 4.5510 to suggest a continuation of the trend.
Oil prices remain supported after Iraq's oil minister said he expects oil prices to remain above $ 65 and OPEC + production cuts should help keep prices at normal levels. Support was found between the 10-day and 20-day eMA for the WTI and yesterday it showed a bullish reversal with two bars.
Forex: dollar recovers part of yesterday's PMI losses
The US Dollar Index (DXY) has recouped about half of yesterday's losses incurred when the US PMI data was weaker than expected. However, while the report still contained some compelling numbers, traders were clearly in the mood for something better.
The US dollar is the strongest currency and has appreciated against all of its day-trading peers, adding 0.4% against the Swiss franc and about 0.22% against the British pound, Australian and New Zealand dollars.
The British pound remains strong after the UK announced a £ 1 billion trade deal with India. The GBP / JPY pair made a bullish reversal with two bars yesterday, found support at its 10-day eMA and showed the potential to retest the 152.55 high (and possibly even higher). EUR / GBP has formed a bearish engulfing candlestick, although the 50-day and 20-day eMAs are currently providing support. A break below them calls attention to the 0.8655 high.
Forward (once per BST)